1004100 featured the NJ Monthly magazine!

Click here to read this great mention in NJ Monthly's Giving Back column!
Thank you NJ Monthly!
1004100 Union, NJ featured in The Village Green

Click here to read this great article in The Village Green of Maplewood & South Orange about how the Joyal Foundation helps families from Slucker NCJW/Essex Center for Women.
We couldn't be more pleased to be partnered with such a great organization that helps so many!
A message from our Dedham event partner Tom Moriarty

December 2016
Another $100 for 100 event is in the books and I wanted to thank you for making it possible. I can report it was another resounding success.  Almost all of the children we served with the event came from the Germantown Neighborhood center in Quincy, which is a branch of the South Shore YMCA. This year the population we drew from was a little bit older than in past years because we have identified a greater need among that age group. Many different groups and civic associations have events for younger children around the holidays, and older children can find themselves left out. Our event this year extended to many pre-teens and teens who would have been otherwise excluded from any other holiday giving events. In short, I just want to let you know that your support played a critical role in bringing some holiday cheer to a deserving group of underserved children who might otherwise have had none. The attached photographs tell the tale.
As many of you know, my thinking about this event goes beyond the fact that it brightens a single day in the holiday season. I hope that this event demonstrates to these children that the world is not always as cold as it sometimes appears and that there are good, caring people in the world who are willing to give of themselves. Thank you for being in that group of people and for allowing your generosity to convey that message.
I wish you health and happiness in the new year!  T.O.M.
1004100 Saugus in the news!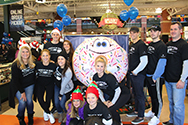 Check out this great article on our recent 1004100 event in Saugus, MA.
Thanks to our friends at D'Alelio Management Company and all of our Saugus sponsors and volunteers for making this such a great event year after year!
Some amazing feedback from our 2016 Coral Springs event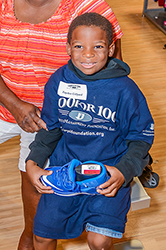 Dear Joyal Foundation,
On behalf of my clients, I want to personally thank everyone that participated in the 100 for 100, on December 4, 2016 in Coral Springs. I represent grandparents and other relatives who have changed the course of their lives by raising a relative's child. Most of them are on fixed incomes. Several of my families were lucky enough to be at the event and go shopping for gifts they never would have received. I was there and witnessed the smiles and joy on the children's faces and the adults who watched in joy.
The name Joyal fits!! It is really JOY ALL. Thanks , once again.
Judith Migdal-Mack
Coral Springs, FL
Community impact in Plymouth, MA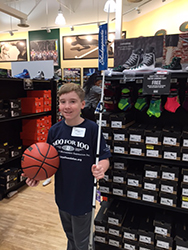 Hi Renee,
I just want to thank you for inviting us to that wonderful event 1004100 in Plymouth yesterday. Seeing the excitement in the eyes of our CSC children was so uplifting! The Moms were so grateful for this experience with their kids. As you might well imagine, it's not often that a Mom with cancer can shop with a child and offer them so much. I applaud your organization for doing so much for so many!
Again, please know that the shopping spree you provided uplifted us all. We can't thank you enough!
Blessings,
Kathy
Kathleen Armany RN, BC-HN
Program Director
Cancer Support Community/Mass South Shore
The Foundation reaches children in Naples, FL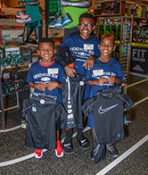 I want to personally thank you for your generosity towards our 5 students that were selected to receive the $100 Gift Card to Dick's Sporting Goods in Naples, Florida. We helped to facilitate their shopping at Dick's this past Sunday and it was a joy to watch them shop for their families. They were so proud and grateful. We, as a School Community, are very appreciative of your efforts. Thank You.
Rich Curley
Pinecrest Elementary School Counselor
Immokalee, Florida
1004100 in Richmond, VA

I would like to thank everyone so very very much. I am on a fixed income and currently raising 2 grandchildren ages 3 & 7 without any assistance. My granddaughter Ariana was so excited and blessed to be one of the recipients of a $100 gift card. She was excited to receive gifts I wasn't able to give her however she enjoyed the entire experience. Emerson Foster was so caring and added so much excitement and fun to the day. Ariana really enjoyed shopping with her. Once again thank you so much. God bless everyone.
Rhonda Jivers
More great feedback from our 2016 Plymouth event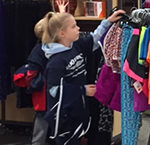 Hi Renee and Danielle,
I just wanted to say again thank you for the opportunity for us to nominate some of our Club kids. One of the mom's just called and was overwhelmed and happy and is so grateful. It's such a wonderful event. Thank you again and happy holidays!
Christine Young
Check out these amazing letters we've received over the years...