Please choose the event where your child should be nominated.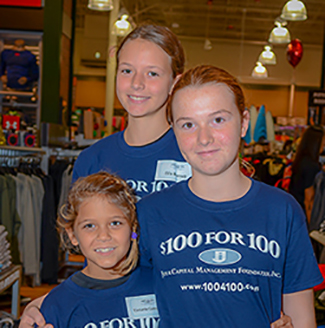 PLYMOUTH, MASSACHUSETTS – December 3, 2017
CORAL SPRINGS, FLORIDA – December 3, 2017
NATICK, MASSACHUSETTS – December 3, 2017
SAUGUS, MASSACHUSETTS – December 3, 2017
RICHMOND, VIRGINIA – December 9, 2017
The Richmond, VA 1004100 event no longer accepts online nominations. Nominees for this event are submitted by community partners in the Richmond area. If you have any questions, please contact Heather Brugh at hhb4103@gmail.com
DEDHAM, MASSACHUSETTS – December 10, 2017
Nominees must be between the ages of 5 and 18, live in the state where the event is being held and be available to participate in the event. Nomination forms will be reviewed by the selection committee of Joyal Capital Management Foundation, Inc. Selection decisions will be based largely upon the information you provide, so please be as detailed as possible to help demonstrate why you feel your nominee should be considered. Being nominated does not guarantee being selected. Please do not notify your nominee until we contact you regarding the status of their acceptance.